In our Early Education program, children from all backgrounds are brought together to be nurtured, nourished, loved and celebrated. Here, diversity is strength. Here, creativity and critical thinking flourish. Here, a holistic, play-based curriculum allows our teachers to follow each child's interest, while building essential skills, strength and resilience. Here, we understand that healthy children need healthy bodies AND healthy minds. Because at the YMCA of Greater Boston, we believe a strong community starts with strong, well-educated children.
At each of our 9 Learning Centers throughout Greater Boston, our dedicated, passionate teachers provide full-time care for infants, toddlers, preschoolers and Pre-K students in an environment of respect, and in partnership with families.
If you want your children to learn and grow in a place they are known, cared for, challenged and loved every day, contact us today.

WHY CHOOSE THE YMCA?
Our Mission: The YMCA of Greater Boston is dedicated to improving the health of mind, body, and spirit of individuals and families in our communities. We provide welcoming, belonging, and opportunity for all.
We value diversity & inclusion: We value every child and family that enrolls in our program. We embrace family's traditions and culture and provide environments that are reflective of the cultures of the children and families who attend our programs. ​
Relationships: We connect Families, Children and the Community
Compassion and Care: We support physical and mental health in our Programs through Physical Fitness, Yoga, Mindfulness and Aquatics
Responsibility: We recognize the opportunity we have to support children and families and we accept this great responsibility. ​
YMCA Early Childhood Education Academy

Become a YMCA Early Childhood Apprentice and get paid to grow your career in early childhood education.

Learn More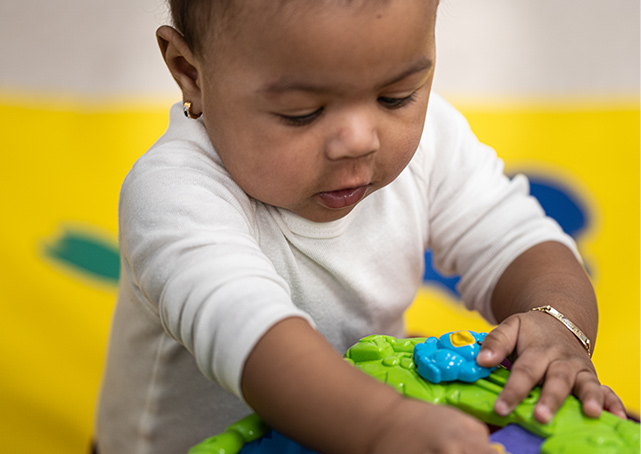 Infants
In our infant programs, a focus is placed on flexible programming to match your child's developmental needs. Curriculum and schedules may happen naturally and be different day to day.​
The Infant Room does not have a formalized schedule; our providers are on the children's schedule and adjust to the child's needs.
During individualized time, staff provides one on one quality attention for the child by meeting basic needs such as feeding, diapering, attachment, napping and communication.​
During other times, staff may join a child to guide in exploring and experiencing their environment.​
Rooms have a 'no shoe policy' in order to keep the environment as clean as possible.​
Children are able to experience the outdoors areas on buggy rides or on a blanket on the lawn.
Toddlers
In our toddler program we focus on developing physical, emotional, social and cognitive skills. In addition, children will be able to use their newly discovered independence skills as they explore their environment. Staff will encourage children to use self-help skills as they provide basic need care. Routines are essential at this age to help children predict the events that will occur during the day. Consistent limits are set for children so they can determine boundaries. ​
Toddlers are building a sense of security and confidence when the basics are consistent. We also recognize there also needs to be regular changes to the details of the environment to keep them stimulated and interested in exploring new things. At this age there is development of gross motor skills and figuring out communication patterns for the beginning of language development.
Preschool
In our Preschool program curriculum, we prepare children for life skills by introducing them to learning centers that encompass a wide range of activities. Children will be introduced to math, language, reading, social and physical skills in a creative manner. In addition, we continue to work with children on their self-esteem and independence skills.​
Children will have varied opportunities and materials that encourage them to have discussions to solve problems that are interpersonal and those that are related to the physical world. Children are regularly provided multiple and varied opportunities to develop phonological awareness – a vital skillset when learning to read. Children are helped to identify letters and the sounds they represent, recognize and produce words that have the same beginning or ending sounds, or write letters.
Activities align with the Common Core Standards and MA State Guidelines for Early Learning.
Children will have lots of opportunities to develop their small and large motor skills through play experiences. We have a variety of indoor and outdoor equipment that enhances physical development throughout the day. You will see children participating in the following activities:
Riding scooting toys​
Sand play and digging​
Running, jumping, climbing​
Stacking blocks​
Completing puzzles​
Painting pictures (small motor)​
Running on the playground​
Dancing to music​
In our programs, children will begin to recognize and talk about emotions as they play and come across different scenarios.
For example:
At a birthday party: "I'm really excited to blow out the candles!"
At a doctor visit: "Will I get a shot? I feel scared."
Children are able to relax, focus, feel successful, and express their feelings of happiness, frustration, surprise, anger, sadness or delight.​​​
Through meaningful interactions with each other and supportive guidance from their teachers, children will work through conflicts and better understand others emotions (care, frustration, sadness, empathy).
During play, children learn to interact with others. They talk, collaborate, plan and pretend together. You will see children engaged in imaginative play that builds their social skills, for example:​
They might be workers in a veterinarian's office: "Let's put the dog on the scale."
Shoppers at a farmers' market: "Can you help me? I want to buy an apple."
Workers on a street repair crew: "Can I hold the stop sign while you and Denise fix the potholes?"
Play helps children develop cognitive skills; the thought processes of learning. These include remembering, problem solving, making decisions, processing information, and learning language. During play, children develop a foundational understanding in math, science, and social studies. ​
Math: When children are shoppers or cashiers in a pretend grocery store, or when they build in the block area, they use numbers ("It costs three cents."), explore measurement ("My tower is taller than yours."), and develop problem-solving abilities ("Put the big blocks on the bottom so your wall won't fall down.")​.
Science: Children use science concepts like prediction when they experiment at the sand and water table. ("I think two scoops of sand will fill the bucket.")​.
Social studies: As children take on different roles in our Dramatic Play areas, they practice being parents ("It's bedtime. Let's put on our pajamas and we'll read a book.") and they learn about community helpers, like health care professionals ("Put your arm here so I can take an X-ray.") and postal workers ("I have a package for you in my truck.").
Early language and literacy (reading and writing) development begins in the first three years of life and is closely linked to a child's earliest experiences with books and stories. The interactions that young children have with such literacy materials as books, paper, and crayons, and with the adults in their lives are the building blocks for language, reading and writing development.
STEM Education, a term initiated by the National Science Foundation, refers to an educational approach which integrates more than one of these disciplines.​​
Teaching STEM in the early years enables children to make vital connections between everyday life and the STEM disciplines. It also lays down the foundations for future academic success because the skills learned are transferable to other subjects​. In a time where the demand for careers in STEM are growing, we help to provide a space where your child can learn more about these essential areas for our society.
NUTRITION AND MEALS
Many of our YMCA locations provide breakfast, lunch and snacks to children enrolled in the programs. Menus are available at each center and comply with the federal Child and Adult Care Food Program (CACFP).
The Child and Adult Care Food Program is a federal program that provides reimbursements for nutritious meals and snacks to eligible children and adults who are enrolled for care at participating childcare centers, day care homes and adult day care centers. ​
OUR TEACHING TEAM
Teachers
At the YMCA we attract credentialed teachers who are highly trained, nurturing, experienced and come from diverse backgrounds. Our team of professionals exude passion and commitment towards supporting each child's success and future. Our staff of degreed teachers give parents peace of mind. In curriculum development, teachers observe each child's unique needs and create a plan and activities to expand on their interests and spark their natural curiosity.
Directors
Directors and educators are intentionally hired based on their experience, education, talents and interpersonal skills.
Our Early Education Leaders have a profound love of children. They have experience and key skills: patience, organization, flexibility and collaboration. They embrace diversity and are effective communicators with children, teachers, families and the community. Our Directors are leaders of people! They have great passion for creating the best experiences for children and families as well as supporting and guiding the continuous growth and development of teachers, building their confidence and competence.
All Site Directors are required to have a Bachelor's Degree and experience in leading and implementing an early education program. All staff are qualified by Department of Early Education and Care standards. Staff training is continuous, timely, and comprehensive on topics that include Academic Instruction, Curriculum Development, Bullying Prevention, Awareness of Child Abuse and Neglect, Child Safety and Protection, Family Engagement and strategies to promote children's social and emotional growth.
HEALTH AND SAFETY
Child Protection Policy
The safety and protection of the children we serve are paramount to us. We know parents, guardians, and the community-at-large place their trust in the Y to do everything that we can to ensure that the children in our care are physically and emotionally safe. The YMCA of Greater Boston reviews all prospective members and guests against the Massachusetts Registry of Sex Offenders and prohibits membership or access to our Y's for individuals who are classified as offenders.